Are protein shakes for weight loss a good idea? Many say that they can help. Some say they're not necessary. The four hour diet book, for example, suggests eating 30 grams of protein within 30 minutes of waking in the morning. There aren't a lot of protein based foods that contain that amount of protein in one serving so taking a protein shake might be the right course of action. Protein is good for helping you build and repair muscle and it can help reduce your appetite.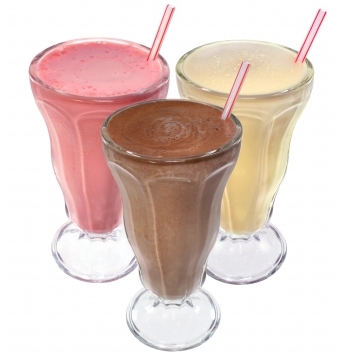 Protein shakes help you repair muscle after exercise and they can help those trying to lose weight achieve weight loss without loss of muscle mass. While protein supplements can help, it's also important to eat adequate amounts of food. The right regimen will optimise your experience with exercise and diet so you can reach your goals.
There is a lot of negative press about soy protein, so many proponents of protein shakes for weight loss recommend whey protein. There are naysayers who prefer soy protein to whey protein and it's up to the individual.
When shopping for protein shakes for weight loss, you'll probably consider at least several things:
Cost Of Protein Shakes
The sports nutrition industry is a wealthy one. A lot of people want help losing weight and gaining muscle and seek out protein shakes for weight loss. For this reason, it's a competitive industry. But that said, there is an often steep cost involved in using supplements.
You'll find a variety of availability at your department, grocery, sports nutrition, and bulk store. When comparing cost, look at quality as well. Check the internet for reviews of protein shakes to get an idea of whether or not the shake you're considering is worth the cost.
Availability
Some of the best reviewed protein shakes aren't going to be available locally. Buying protein shakes online can be convenient and in many cases, it can be less expensive than driving to the next town or city to find it. If you find something locally, you might also look online to see if it's readily available and comparable in cost.
How Easy Is The Shake To Take?
Some people find taking protein shakes to be arduous due to the full feeling. Read up on user experience so you can find a good protein shake to take, so you can determine the optimum time and way to take it, and so that you know what to expect.
Efficacy: Does It Give You The Results You're Hoping For?
Protein shakes aren't for everyone. Look for the right one to suit your needs. Research for the right dosing info and get as much information about your options as possible. If you're interested in protein shakes for weight loss, there are a lot of options and some great advice to help you choose the right supplements and reach your goals.