Time is the single biggest problem when creating workout programs for men. There is never enough of it! Luckily, you do not need hours at a time for exercise but you do need to carve out at least 30 to 45 minutes a day to achieve respectable results, depending on your fitness goals. Getting up a little earlier than normal or bumping back bed time are great options to squeeze in a workout in your busy schedule.
A Three Day Per Week Fitness Program
If you follow an exercise routine based on a Monday, Wednesday, Friday schedule, you will be able to keep your weekends free for friends and family time. Plus, a three day routine adheres to some trainers' advice of one day on and one day off. Workout programs for men that are based on three days will incorporate cardio exercises in addition to strength training using weights or resistance machines.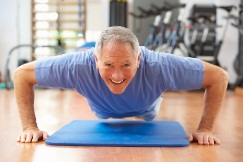 Each day starts with about 20 minutes of cardio exercise such as the treadmill, elliptical, stationary bike or even jumping rope or marching in place. Anything that will warm up your body and get your heart rate up will work. Just be sure you alternate your cardio options each day.
After cardio each day, you can concentrate on core muscle groups, alternating each day. You might spend 20 to 25 minutes on three or four core exercises working on your arms, chest, and shoulders on Monday whereas on Wednesday it might be your back and legs. Friday could be a combination of the entire body. On all 3 days, abdominal exercises should be added to complete the workout.
Circuit Training Several Days a Week
Intense circuit training for three to four days a week can be an excellent addition to workout programs for men. It takes only 45 minutes at a time and combines a full body workout along with cardio. And because the exercise is intense, there is a lot of fat burning going on. The use of dumbbells adds better results. With circuit training, there are often seven to ten different exercises that are completed in succession, allowing only 10 to 15 seconds of rest in between each one and approximately two minutes between each completed circuit. You should repeat the circuit two or three times in a 45 minute session.
A typical circuit training workout for men will include squats, with dumbbells optional. Mountain climbers, push-ups, ab crunches, dumbbell swings and split jumps are often a part of this routine. You might also include lunges with or without dumbbells, push-up rows, overhead dumbbell presses and front lateral dumbbell raises.
For an effective circuit training workout, you should switch out the exercises in your routine every three or four weeks as your body can become accustomed to them.
Creating workout programs for men based on just a few days a week can work with busy schedules. You can achieve results as long as you stick with your exercise routine regularly. Of course, you will boost your chances of developing a better body if you add a healthy, balanced diet into your fitness plan.