If you're thinking about taking up yoga, it can be great for the health of your body and your mind. It can be great for improving health, toning, and helping you relax, too. It can be a great stress buster and an aid for gaining clarity and tranquility amid a fairly noisy world.
There are quite a few different types of yoga. Some of those types include: Hatha Yoga, Bikram or Hot Yoga, Power Yoga, Prenatal Yoga, Restorative Yoga. There are quite a few other types as well but here is a brief overview of the above popular types of yoga.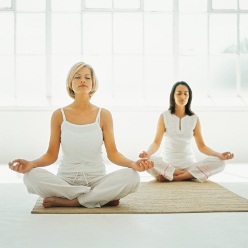 Hatha Yoga
Hatha yoga is probably one of the most well known types of yoga. It's a great one for beginners. Types of yoga positions vary among sitting and standing ones.
Bikram or Hot Yoga
Bikram, also known as hot yoga, (although not all hot yoga is classified as Bikram yoga as Bikram requires you to have specific certifications) involves intense yoga workouts in a very hot yoga studio, designed to help you burn a lot of calories. If you're looking at doing yoga for weight loss, this is the one for you!
Power Yoga
Power yoga has been popular since the 90's, and was helpful in making yoga more mainstream. It focuses on building strength and enhancing flexibility through various classes. Most people who do power yoga are intermediate in skill level. You can often find power yoga classes for beginners as well.
Prenatal Yoga
A healthy body can better endure childbirth and many women find that prenatal yoga helps with stress, flexibility, and improves muscle tone and balance. Prenatal yoga classes are designed for the pregnant body and often for a specific stage in your pregnancy.
Restorative Yoga
Restorative yoga poses are particularly relaxing for many and do a lot of focus on meditation.
Popular Yoga Poses
Popular types of yoga poses include: downward dog, salutation, cat flow, and many others. You can find many resources that will help a beginner as well as take classes for various skill levels and for various types of yoga. Beginner types of yoga poses include: mountain pose, pyramid pose, child's pose, bridge, cobra, and others. There are beginner, intermediate, and advanced poses.
Which type of yoga is right for you? There are many others above what's mentioned here and some yoga practitioners practice more than one type.
Regardless of what types of yoga you think may be best for you, it can be great for the body, the mind, and the soul. As you become more adept with it, movements can become easier and you can tackle the more advanced options.