Does water help you lose weight? In many diet advice articles and weight loss books you'll read repeatedly to drink plenty of water when dieting. Why is that? What's so great about water for weight loss?
Water's Caloric Intake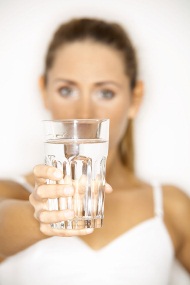 Water has zero calories, zero carbs, and yep… it also has zero fat. It won't make you gain weight and it can be a great weight loss aid. But it does quench your thirst. Drinking water to help you lose weight can cut your calorie intake substantially. Many people drink 5-10 calorie laden drinks a day. Imagine cutting most (or all) of those out and just drinking water? You could cut thousands of calories from your diet on a monthly basis.
There have been cases of people losing a few jeans sizes in a short time just from the simple change of drinking 8-10 glasses of water a day in lieu of calorie laden beverages.
Water Fills You Up
Why else does water help you lose weight? People who drink water find that it helps you eat less. Drinking a glass of water before a meal can help you eat a smaller portion.
Drinking a glass of water when you get a hunger craving between meals will also often help you get to your next meal without snacking. People often mistake hunger for thirst. Staying hydrated could help kill the munchies.
Water Revs Up Your Metabolism
Water helps everything move swiftly through your system. Increasing your water intake, especially if you currently rarely drink water, could have a very positive impact on your body.
Water Detoxifies Your Body
Water is great for your body. It helps with your skin, your organs, and your overall health and wellness. Water energises you and quenches your thirst. It can help you during exercise and it helps you change your eating behaviours. Those who drink water tend to crave less junk food than those who often drink carbonated beverages. Carbonated beverages often seem to wake up the junk food cravings whereas it's much easier to drink water and eat healthy. Mindset is important when trying to lose weight and water is an excellent way to get the right mindset.
Baby steps can add up to substantial weight loss. The simple act of deciding to drink water could help you get well on your way to reaching your weight loss goals. If you want to know.. does water help you lose weight.. why not do an experiment and see how it goes. Eating your daily calorie allotment rather than drinking it will also give you more room for satiety.