Regardless of whether you have a little or a lot of weight to lose, there is definitely a very big industry of weight loss products on the market. If you're looking at the options for weight loss programs for women, take a look at some of the more popular options..
Jenny Craig & Weight Watchers Type Programs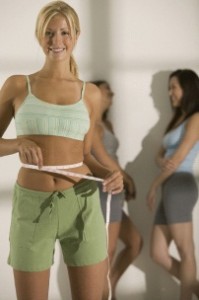 The Jenny Craig and Weight Watchers programs often cater to women. Many will cater to both genders and both of these programs can be used by men or by women but you'll probably notice that most of their commercials revolve around females trying to lose weight.
These types of programs either send you food so you eat their portion controlled food or they operate on points based systems to help you count up the amount of food you can eat per day that will let you stay within a specific limit that is conducive to weight loss.
By following these types of plans, you could lose weight steadily. Many will offer additional perks, such as support groups that help you work with others toward common goals. You'll find free mens' and womens' weight loss membership plans or plans that offer to let you join for as low as $1 per kilo plus the cost of food.
Women's Fitness Centres
Women's fitness centres offer women a place to exercise that is male free. This may make some women feel less self-conscious about working out in an environment with others.
Weight Loss Supplements
There are many weight loss supplements that are marketed specifically at women trying to shed extra pounds. You'll find meal replacement shakes, pills that can help you feel full sooner, bars and powders, and other supplements as well. Choose wisely. Many of these are meant to be supplemental to other weight loss efforts, such as dieting or exercise.
Free Weight Loss Programs for Women
You'll find free websites, ebooks, and blogs dedicated to providing free advice as well as programs you can download to offer advice on weight loss foods and menu planning, nutrition, and exercises to target specific problem areas. Many offer advice for free but also sell additional products that could help your efforts along.
There are weight loss programs for women only, and some are for anyone. When deciding to try something new, do tread carefully. Some products are excellent and effective and others are not going to work all that great. One ingredient for weight loss is definitely essential – willpower. The right advice along with willpower and motivation to lose weight could be the right combination to help you reach your weight loss goals.