Soup is good for nutritional and dietary needs. It's also a very budget-friendly food as you can make a large pot for a low cost and freeze a batch for another day. Don't settle for commercial soups all the time, they're often high in sodium and preservatives and low on flavour.
Making your own low fat soups enables you to fill up with a low amount of calories and it can be very nutritious. Here are a few low fat soup recipes for you to try.
---
Vegetarian Chili Soup
This recipe serves about 4-5 people.
This is a combo of a soup and a stew. It's low cal and high in flavour and fibre so will help you stay full longer.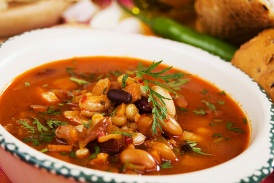 1 can of diced tomatoes
1 can of tomato soup
1 can of baked beans
1 can of kidney beans
1 small diced onion
1 diced bell pepper (any colour or use several varieties)
Sliced mushrooms
1. Brown all vegetables and then mix all ingredients.
2. Add salt, pepper, garlic, and chili powder to taste.
3. Cook over medium heat until peppers are tender.
---
Low Fat Macaroni Vegetable Soup Recipe
This recipe will make about 4 bowls of yummy low fat soup.
Low fat soup recipes can include just about any veggie you like, because vegetables tend to be low calorie and high in nutrition. Here's a pasta vegetable soup you might like:
1 envelope of Lipton chicken noodle soup
4 cups of water
1 can of diced tomatoes
7 or 8 sliced baby carrots
2 stalks of celery
1 handful of macaroni (whole wheat if possible)
Method: Place all ingredients in a saucepan and simmer soup for about 30 minutes or until macaroni and carrots are tender.
---
Lower Fat Cream Soup Recipes
Creamy soups are delicious but aren't exactly figure friendly, are they? You can substitute skim milk for the cream, trim the butter, and add chicken broth for extra flavour in just about any cream soup recipe. How about some low fat soup recipes for Cream of Broccoli? Here's one:
Low Fat Cheesy Cream of Broccoli Soup
This recipe will give you about 2-3 bowls.
1. Boil or steam a head's worth of broccoli flowerets (or broccolini) until it's tender. Reserve a cup of the steaming or boiling broccoli water.
2. Mix a tablespoon of flour into a tablespoon of melted butter in a saucepan. Make a roux by slowly adding about 1 cup of skim milk.
3. Add some soup stock (chicken bouillon. The condensed jelly type if possible – about 1 tablespoon).
4. Add broccoli and a tablespoon of light cream cheese and about 1-2 tablespoons of light parmesan cheese.
5. Add reserved broccoli water, and slowly add another cup of milk.
6. Simmer 20-30 minutes to melt all the cheese and blend flavours. Some salt, pepper, and other spice to taste works well.
---
Overall, soup is a low fat food. When you make it homemade, you control the salt and fat content. It's budget friendly, figure friendly, crockpot friendly, and freezer friendly, too. Why not experiment with some low fat soup recipes today!