Chicken is a great food for those who want to watch their diet by reducing fat and increasing protein. It's a versatile food as well. When it's on sale, stock up in the freezer! There are a great deal of yummy low calorie chicken recipes.
Here are five easy low calorie chicken recipes for you to try out..
---
Low Calorie Roasted Chicken
Roast a chicken on a metal cage. These cages are available for, typically, under $10 and let you stand the chicken up in the oven. Fat drips off. Cook according to package directions based on the size of chicken (typically 325F for a few hours). Just sprinkle with some BBQ chicken spice. Avoid eating the skin. Serve with vegetables and/or salad.
Tip: Save the leftover roasted chicken and make some hearty and low calorie chicken vegetable soup (see next recipe!)
---
Chicken Vegetable Soup or Stew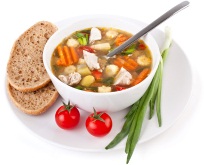 Soup is a hearty meal with low calorie count. It's also very budget and schedule friendly as you can make a batch easily and freeze some for later. Boil some leftover chicken to make a broth and strain out the chicken and bones. Re-deposit the meat and add some vegetables and spice to the mixture and cook until tender.
If you want to make it into stew, add a can of low fat cream of chicken soup and some thickened chicken broth to it.
---
Low Calorie Chicken Recipe – Mexican Chicken
Place boneless, skinless chicken breasts in a roasting pan and add a jar of salsa and half a jar of vegetable cocktail. Cook in roasting pan at (180 degrees or 325 – 350 Fahrenheit) until done. Serve with brown rice and your choice of vegetables. The sauce is low calorie and delicious!
---
Homemade Chicken Tenders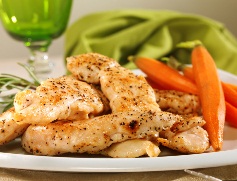 Chicken tenders are often heavily breaded and fried. They're delicious but they're off the charts on the caloric value scale. To cut the calorie count, consider baking them instead of frying them. Slice your chicken into strips and dip in flour, then an egg and milk mixture, and then breadcrumbs mixed with your favourite spices.
Consider using whole wheat bread crumbs for better nutrition or for extra crunch, crush some cornflakes cereal. Bake these, flipping half way through. For extra crunch without loads of extra calories, spray them lightly with cooking spray half way through cooking. This is a pretty good alternative to deep frying.
---
Chicken Pasta Alfredo
Chicken in pasta alfredo sounds decadent, doesn't it? It probably doesn't sound like one of the more figure friendly low calorie chicken recipes. But here's a way you can get the decadence without eating a day's worth of calories in one meal:
Whole wheat pasta (and only serve yourself a cup of it).
Saute or grill some boneless and skinless chicken breast with some vegetables (chicken and broccoli and a bit of spinach works great). Lots of veggies will fill you up, add flavour, and won't leave you feeling robbed due to the smaller pasta portion.
Add a teaspoon of butter and a teaspoon of flower into a skillet. Make a roux and slowly add some chicken broth, skim milk, and low fat cream cheese and parmesan cheese until desired consistency. Add some salt, pepper, parsley and any other spice you like. Toss together and serve over hot whole wheat pasta.
*** Always be sure to cook chicken until it's no longer pink in the middle!