There are many reasons why some women look at ways of losing weight while pregnant. Not everyone is able to simply enjoy the whole 'eating for two' thing. If for whatever reason you need to look at losing weight while pregnant, you'll want to be very careful about weight loss methods. Read on for some suggestions.
Eat Your Calories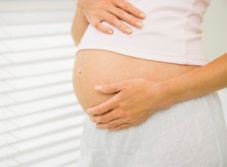 Some people don't realise how much of their caloric intake comes from beverages. Drinking thick shakes or soda pop won't be good for your health and some of these beverages aren't at all good for your baby, either.
Drink 1% or Skim Milk
Don't mistake the above advice about eating your calories as a reason not to drink milk. Milk is an excellent source of calcium and calcium is essential during pregnancy. But you don't need the fat in whole milk. Opt for 1% or even skim milk, which will provide you with calcium without as many grams of fat.
Count The Calories
You don't need to eat for two adult people when you're pregnant. Some women have so much weight loss after pregnancy because they take the "eating for two" adage quite literally. An extra 300 or so calories beyond the normal optimum calorie intake for your body is adequate. Counting calories to get into the optimal range is a good idea and it's also a good idea to opt for good calories versus bad.
Beware
The vast majority of diet supplements are not tested for safety for pregnant women. For this reason, it's probably not wise to use diet aids unless they're specifically designed for losing weight while pregnant and are approved by your doctor.
Integrate Light, Doctor Approved Exercise
Some pregnant women can't exercise for medical reasons but the vast majority of pregnant women can get some light exercise during pregnancy. Walking, pregnancy yoga, and other light exercises could not only help you with losing weight while pregnant but they could also help you have an easier time of labour due to your being in better physical condition.
Eat Clean
Cleaner eating will give you and the baby the right level of nutrition without packing on the pounds. Be choosy about what you eat while pregnant.
It's usually okay to give in to the odd craving (unless you're on a highly restrictive diet due to blood sugar issues or some other problem) but eating clean for the vast majority of the time will probably result in most of your gain during pregnancy being all baby.
After you've given birth and you're feeling fit and healthy, you might like to check out our tips on losing weight after pregnancy!