Whether you're looking into dieting, want to control your child's calories, or are just looking to get some fresh after-school, movie night, or healthy snack ideas for the lunchbox.. here's some information that can help you with choosing healthy snacks for kids as well as increasing the chance that your child will actually eat the snack.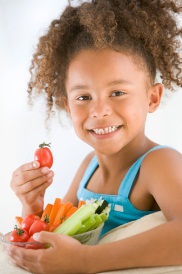 Choosing healthy snacks for kids will not only provide your children with nutrition but they'll promote healthy eating habits that can last a lifetime. The right snacking habits can help you with weight control, nutrition, and if done creatively, can help you expand your child's snack repertoire beyond cookies and candies. Read on for some tips and some ideas for healthy snacks for kids.
Adopt Healthy Snacking Habits For The Whole Family
Kids and parents alike should choose healthy snacks. Many parents make the mistake, with toddlers, of trying to stop the toddler from eating certain snacks that are in the house (snacks that the parents or older kids eat). Why bring those snacks in at all? The occasional treat night is totally fine but make the normal snacks consist of healthy choices and the whole family will be better off. Try to choose snacks with nutritive value.
Watch Sugar Content
Even fruits and juices contain sugar and while fine in small doses, should be carefully monitored for both health and nutrition as well as oral care. Many healthy snacks for kids are ok nutritionally (such as fruit leather, juice and raisins) but aren't good for the teeth. Be extra careful with low fat or fat free snack foods as many do have high levels of sugar, which can turn to fat anyway.
Avoid Snacks With Artificial Sweeteners
It's wise to keep things natural for kids. Many people believe that there can be negative health effects from aspartame, sucralose, and similar sweeteners so most nutrition experts suggest steering clear if possible.
Get Creative
Offer a variety of snacks to keep your kids interested and to expand their palate. When foods are offered in snack form, they often become favourites. For instance, your child may think he or she doesn't love rainbow peppers on their dinner plate but dipping raw strips of colourful pepper strips into a healthy dip might get them trying the healthy food.
Get Your Child Involved
Helping with snack time can get them involved in eating healthier choices. Decorating muffins with healthy toppings instead of cupcakes, helping to arrange raw vegetables into a fun pattern on a platter, choosing to help prep and clean-up, and other involvement will encourage your child to want to eat the healthy snacks. For kids, choice is often important.
Here are some suggestions for healthy snacks for kids..
A fruit platter with yogurt dipping sauce.
Trail mix. Mix favourite things for your child, including: raisins, nuts, dried fruit, seeds, and granola. Be careful about allergies of course, and be sure to spend extra time on teeth brushing after trail mix.
Smoothies. A smoothie can be a filling and dessert-like snack. Combine yogurt, a banana, some milk, and other fruit combinations for a delicious and nutritious shake.
Cheese and whole grain crackers.
Ants on a log (celery with peanut butter, topped with raisins)