Are you trying to lose weight and find lunch to be a difficult thing to do healthfully? If this is the case, here are some healthy lunch ideas and associated tips to help you with both the health and dieting aspects of lunchtime..
Avoid the food court. Avoid the food court and avoid the temptation. Consider going out for lunch occasionally for the social and reward aspect of it but pick your lunch locale carefully and plan ahead so you don't do impulse buying.
Plan ahead. When you do your grocery shopping, factor lunch in as well as dinner. This is especially helpful if you're not accustomed to packing your own lunch for work. Pack things you'll enjoy, so you aren't tempted to ditch the brown bag for the local drive-thru.
Subscribe to healthy recipe idea websites. They will send you out notifications of recipes to give you plenty of healthy lunch ideas.
Make extra dinner and pack it for lunch. Did you enjoy your last night's dinner? Bring some for lunch. Just watch your portion control.
Meat and salad. Lean meats and a big and colourful salad makes a great lunch. Grilled chicken, for instance, goes great in a salad. Ditch the high fat salad dressings. Consider a spritzer and something oil based instead of cream based. Throw some beans into that salad to help you feel fuller and for a healthy fibre boost.
Add healthy treats to your lunch. Make your lunch an enjoyable experience by adding a guilt free treat. Fruit cups, low fat pudding cups, popcorn, a piece of dark chocolate, or other healthy treat will help you feel satiated and less deprived.
Tip: If you're eating lunch at your desk at work, consider going for a walk after lunch. Not only will this help with your weight loss goals but it will get you away from your desk for a little while, which is proven as a productivity booster.
A Workweek's Worth of Healthy Lunch Ideas
Here are some healthy lunch ideas to get you through the next work week:
Monday: Grilled chicken with a colourful chef salad and low fat Italian salad dressing. Add an apple with a spoonful of peanut butter for dipping for a treat.
Tuesday: Tuna in a pita pocket with tomatoes, cucumbers, lettuce, and just a bit of mayo. For your treat, have 2 cups of air popped popcorn.
Wednesday: A small (6 inch) submarine sandwich on whole wheat bread with a cup of vegetable soup. For your treat, have a chocolate pudding cup.
Thursday: Bowl of chili and a size salad. For your treat, have a fruit salad.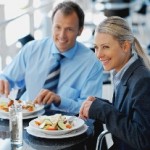 Friday: Go out for lunch today. You've been good all week, right? Opt to go for a lunch restaurant that provides nutritional info so you can make an educated decision about your healthy lunch.
Healthy lunch ideas are everywhere. Variety is a good way to stay motivated. A good breakfast, lunch, and dinner will satiate you and help you reach your weight loss goals. Don't forget to integrate some healthy snacks in, too. This will help you fight off cravings and keep you full so you don't overeat at your next meal.