Have you thought of using body wraps for weight loss? Are you wondering if body wraps work? There are several types of body wraps for weight loss and overall skin benefits. You'll find detoxifying clay body wraps, mineral wraps, and herbal body wraps as well. There are home based body wrap kits and you can also have a wrap done in a spa.
Many of the body wrap options will do great things for your skin and offer inch loss. Let's take a look at some of the options..
Clay Body Wraps for Weight Loss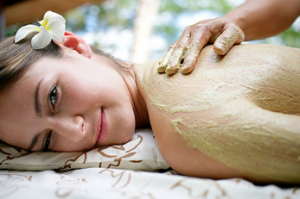 Detoxifying clay wraps are often popular for detox and weight loss purposes in terms of inches lost, more than pounds or kgs. They can help you with cellulite and improve the look and feel of your skin as well. Some clay body wraps contain mud, bentonite or red clay and other clays, such as dead sea clay, as well.
Herbal Wraps for Weight Loss
Herbal body wraps can contain a variety of ingredients, such as seaweed, aloe, Shea, and other ingredients. These wraps can help you deal with skin problems as well as cellulite and inches.
Mineral Wraps for Weight Loss
Mineral wraps can be put on the body to help detoxify and slim it. People are often wrapped with these wraps and they either do a sauna, some exercise, or use a thermal blanket. People often see loss of a few pounds and a few inches. While some may be water loss, it's also said that mineral body wraps for weight loss can also help detoxify the body by drawing out impurities. Not everyone who uses mineral wraps should. They can affect the body's salt, magnesium, and potassium levels so if you have any concerns with any of these areas, speak to your physician before trying mineral body wraps.
Some spas offer aggressive body wrap treatments that also encompass massage, vibration machines, and hydration treatments. Again, not all ingredients will agree with everyone so if you have sensitivities you should consider finding out what is in the body wrap so you can be sure it won't cause any allergic reaction for you or be something contraindicated by your doctor due to any medical conditions.
Body wraps alone won't amount to a dramatic amount of weight loss on their own but could certainly be a great tool to help you along your journey. Remember.. just like everything you put into your mouth has potential for either good or "evil",  everything you put on your skin is going to be absorbed through your pores!